Kathleen O. Powers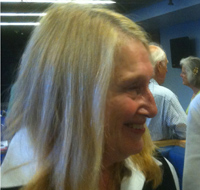 Kathy Powers is a creative marketing professional with more than 30 years of executive management and consulting experience, both with blue chip and entrepreneurial companies. She held senior marketing positions with blue chip firms in New York City, and was co-founder and partner in a management consulting firm with clients in the investment banking, financial services, health care, and energy areas, among others.
As a management consultant, she worked with executive clients in Fortune 1000 companies and non-profits, helping them to address a wide range of issues caused by marketplace changes and new technologies. Projects ranged from a strategy to the improve profitability and service quality of corporate FX to developing a product plan for State of Connecticut educational software for use in high school curricula; the patent application was approved.
Since 2003, she has specialized in the oil and gas industry, developing marketing infrastructure and business development strategy for a growth stage engineering consulting and software company. She Initiated and led a team to develop international business which resulted in opening a branch office in Abu Dhabi, U.A.E. and alliances in Malaysia and Brazil that led to significant business opportunities.
Kathy is an award-winning journalist who has published articles in national newspapers, consumer and trade publications.
At Trinity Bridge, she focuses on business and product development, marketing planning, go-to-market strategies, digital marketing and marketing communications campaigns.
Curriculum Vitae
Years of Experience: 35
Education:
BA, 1975, Chatham College, Pittsburgh, Pennsylvania
MA, 1980, New York University, New York, New York
Areas of Specialization::
Management consulting
Business development
Repositioning strategies and niche market development
New product introduction
Marketing research
Digital marketing programs
Technical writing & publishing
Industry Publications:
Co-author, with Lynne C. Kaley, "Risk Management of Pipelines", Oil and Gas Pipeline Integrity and Safety Handbook, John Wiley & Sons, Inc. 2015. Master Editor of API RP 581, Third Edition
"Pressure Builds for User-Friendliness, Mechanical Engineering, 2009
"Health Care for Aging Equipment", Mechanical Engineering, 2008